About Semanoor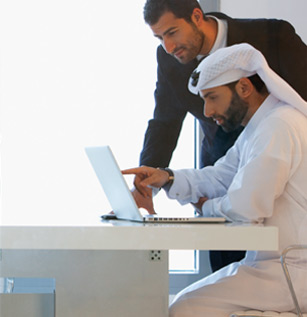 At Semanoor we believe that information and knowledge are fuel for the human spirit. They foster understanding, discovery, enjoyment, learning, and commerce around the globe. We believe in a world where people always have access to the information they need, advancing their lives so they can advance the lives of others.
What We Do
Semanoor's track record goes back to more than 15 years span, when the company was established in year 2000, headquartered in Riyadh, Saudi Arabia. We are specialized in information technology solutions and unified communications services, particularly e-publishing and e-learning for multi-languages users and applicants, in addition, we provide a cutting edge array of software and application models for simulation and gaming purposes.
Legacy
With more than 200 multinational and veteran specialists, the company has flourished its investments in global projects in Canada, India, UAE, Jordan, UK and Lebanon.
With regard to our specialities in education technology and entertainment, our solutions focus on enabling users to learn, enrich, share, rebuild and develop their content into intellectual experience with others within an interactive or programmed platforms that provide efficient and better investment of all educational material in becoming fully accessible, affordable and acceptable to anyone online and offline at any learning level or educational platform, especially among teachers and students.
Our e-learning solutions have all needed software and hardware, smart classrooms and all accessible-web technologies to support and enable e-learning. The e-learning infrastructure management is given a potential care by our administration to provide students and instructors with the most suitable and powerful learning environment.
Our Mission
We help the world's readers, publishers, information providers, and enterprise marketers grow revenue, deliver superior solutions, optimize their clients' performance, and thrive in a fast-changing global digital market. We advance the business of information as a company "that works" – for each other, our clients, our stakeholders, and our community.
Our Values
We deliver and delight, create a "wow" experience, and achieve the win-win situation through: . Integrity. We are honest, ethical, and direct in all of our dealings.
. Service. We are client-centered, good listeners, easy to do business with, and focused on high-touch relationships.
. Results. We are committed to helping our clients achieve high-quality, actionable results.
. Influence. We are a trusted advisor and unbiased thought-leader.
. Innovation and creativity. We are can-do, agile, and embrace change.
. Accountability. We say what we'll do, do what we say, and do the right thing.
. Teamwork. We collaborate with our clients and each other.
. Fun, freedom and family. We get the job done in a way that works for our clients, our colleagues, and each of us.
. Renewing. We are always learning and improving.
. Commitment. We are stewards of what we stand for, focused on running a financially healthy business while being active citizens in the world.
Creativity and Innovation
Creativity is the foundation of all our businesses, the centerpiece of our value creation. We will therefore continue to invest in and expand our creative businesses in all what we do. Our headquarters based in Riyadh as a creative office is open, airy, and engaging. There are no roadblocks to interrupt the workflow, engagement, or creative process. We are a fast-paced creative team without clutter or confusion. We excel at ramping up our clients' results. While our creative firm has a strong management team, we consider everyone who touches your project to be an inspired and motivated leader.
Our Management
Semanoor's executive management team is comprised of tenured and widely respected industry leaders who possess diverse backgrounds not only in Information technology and Education, but also consultancy, finance, human resources, law, multimedia and graphic design. Through their expertise and leadership, Semanoor maximizes its full potential through timely development and delivery of solutions that enhance our clients' businesses and help them secure their own leadership roles in their careers.
Our Management is responsible for the strategic direction and the day-to-day operations of the company. Covering all aspects of operations, sales, project strategy, management, and finance, the team works together to ensure the continued success of Semanoor.